Sounds or Noises in a Dryer
Last updated
Noises in my Amana Dryer
Clicking Noise:
If you have a gas dryer, the gas valve clicking on is a normal operation sound. This will happen numerous times throughout the cycle.
Thumping Noise:
A form of thumping can occur when the load is twisted or balled up. Laundry items with large amounts of fabric, such as sheets, curtains, tablecloths and bedspreads, can roll into a ball in the dryer. This ball of fabric may thump and may cause the dryer to vibrate. To reduce this, add these large items loosely into the dryer. Remove any bunching that may have occurred during washing.
Tumbling tennis shoes in the dryer can make the dryer shake or vibrate. Use a dry rack when drying tennis shoes.
If the dryer hasn't been used for a while, there may be a light thumping sound during the first few minutes of operation. When the dryer is not used, the drum support rollers can flatten where the rollers and drum touch. The flat spot causes the thumping sound. Once the dryer runs for a period of time, the rollers will regain their shape and the sound should stop.
Listen below to noise of flattened rollers:
Pounding Noise: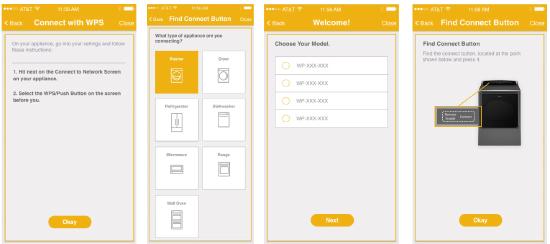 A dryer without legs, or that is missing legs, may rock or teeter on a floor that is not level, which will cause some noise. The legs adjust up and down to level the dryer on a floor that is not level. Check if any of the four dryer legs are missing. Replace any missing legs, and level the dryer both front-to-back and side-to-side, ensure all four legs are in contact with the floor.
A level dryer is required for the sensing of load moisture in cycles. See the Installation Instructions for details.
If you would like to download or view product literature for your appliance, please visit our Manuals and Literature page.
Scraping Sounds:
Objects such as coins, paper clips, safety pins, screws, nails or other small hardware can get caught in the seam where the drum meets the front or rear. Turn off the dryer. Look inside the dryer along the front and rear edges of the drum. Remove any objects caught in the seam.
Knocking/Rattling Sounds:
Zippers, buckles, buttons and rivets on garments as well as loose coins, paper clips, pens, or similar items may be tumbling in the dryer. Always check and clear pockets prior to washing.
Items leaning against the dryer may also cause a knocking or rattling noises.
Remove objects from the top of the dryer that may be causing the sound.
Sometimes when the washer spins, it will cause the dryer cabinet to vibrate. Leave space between the washer and dryer to avoid this sound.
If the dryer is mounted on a dryer pedestal, items in the pedestal drawer may be rattling/vibrating causing the sound.
Listen below to hear the sound of buckles or zippers in the dryer: